A price list TAXA of pharmacy goods of 1695 gives an idea of what was sold in the Raeapteek in the Middle Ages. The price list includes over 3200 famous medicines of that time. Several products which were included in the price list at that time are sold in the Raeapteek today as well.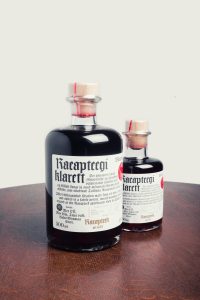 Claret
This distinguished libation made from red wine and spices is a fairly potent, mouth warming concoction created at the Raeapteek apothecary shop in Tallinn in 1467.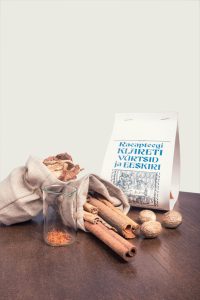 The Claret spices
Every claret-master can select the spices for his claret according to his wishes and oppurtunities. This package is put together following the recipe from the XVI century. Ingredients: unrefiner cane sugar, ginger, cinnamon, galangal, clove, nutmeg flower, saffron. Take 0,75l of red wine and pour 1/3 of it into a pot. Add sugar and the package of spices. Heat the liquid at 70 ºC for 20 minutes. Once the drink has cooled down, pour it back into the bottle and shake.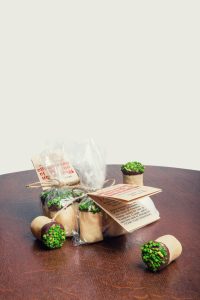 Marzipan with spices and chocolate
72% almonds, black pepper, spice, coriander, nutmeg, ginger, cloves, cinnamon, cardamom, rosemary.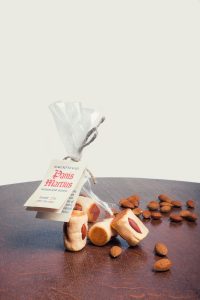 Raeapteek marzipan ( Panis Martius)
72% almonds A good cure for alleviating the ache of love and promoting brain activity. Reval marzipan was one of the most well-known marzipans of Northern Europe during the time of Hanseatic League, and it was first sold in Raeapteek.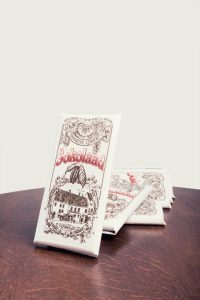 Raeapteek chocolate
Herbal tea
Simple charm: mild flavour and homemade feel. Blend: peppermint, balm, camomile. Instructions: 1 tsp. of herb mixture per cup of boiling water, let steep for 4 or 5 minutes and enjoy.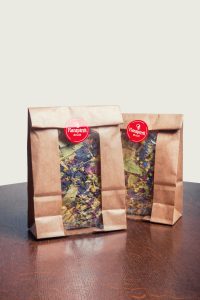 Raeapteek Blossom Tea
The unique floral melange can be enjoyed at any time. The colourful blossoms lifte the spirits and the pleasant taste brings a smile to your face. Ingredients: linden flowers, rose hips, fireweed flowres, calendula flowers, mallow flowers, cornflower, primrose, dwarf everlast, peppermint, chamomile, hibiscus.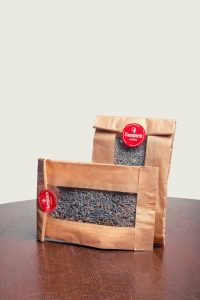 Raeapteek Lavender
Lavender in enjoyment for the body and soul. The aroma of lavender has health benefits. Finally, lavender has made it out of dusty drawers and has been retired from its dirty work of repelling moths. Add lavender to the bath water or to the tea cup.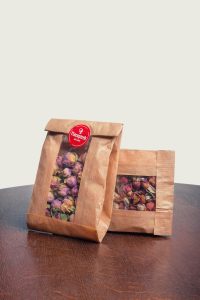 Raeapteek Rose Hips
Rose hips are rich in vitamiin C nad it is belived they improve the blood circulation. We think that they are the best remedy for a broken heart or to bring a carefree glow to an afternoon.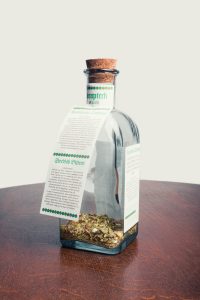 Swedish Bitters
A general tonic that improves the appetite, aids digestion, reduces bloating, eases constipation and alleviates nausea caused by cold. Regular use restores metabolism, eases sleep disorders and improves general well-being. Ingredients: wormwood, turmeric, senna leaf, angelica, manna ash, Venice treacle, rhubarb, camphor, myrry, Carlina root, saffron. Add 500 ml of clear spirits to the herbs, let steep for 2-3 weeks. It is recommended to shake bottle periodically.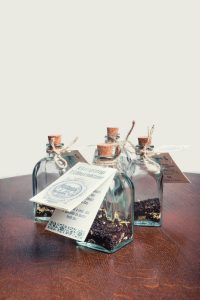 Raeapteek Tincture for stomach
Bottle contains black currants, hollyhock roots and fennel seeds. Fill the bottle with vodka, leave it for 4-5 days. When you have stomach problems, take one teaspoonful a couple of times a day. In case of a cold, add a spoonful to warm herb tea.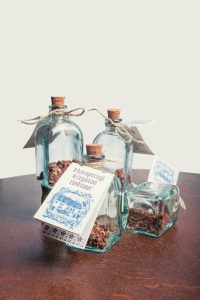 Raeapteek Energizing tincture with Golden Root
For eons Golden Root has been used as energizing and vitalizing meedium increasing ones potency and abilty to work. Fill the bottle with vodka and leave it for 7 days. Take a spoonful a couple of times a day.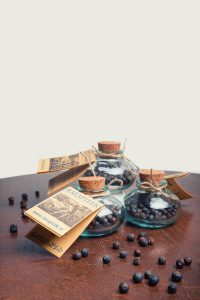 Juniper berries
Eat one juniper berry every day during the season of illnesses. There are nine doctors inside the juniper (folk saying of Estonia). Juniper berries were used to cure cough and stomach illnesses. Tea alleviated kidney and bladder problems.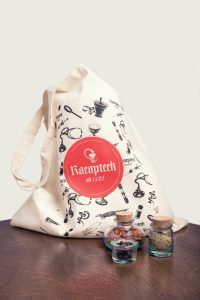 Raeapteek tote bag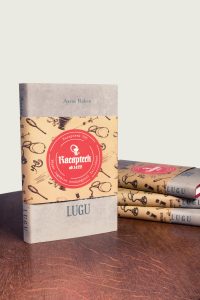 Book " The story of the Raeapteek"
The book is a fascinatingly written history book about The Town Hall pharmacy, one of the cornerstones of the cultural heritage of Tallinn's Old Town. The author leads the reader into those years away, when the pharmacist was the only reliable helper in the city to fight the Black Death and other terrible diseases. Soon available in english.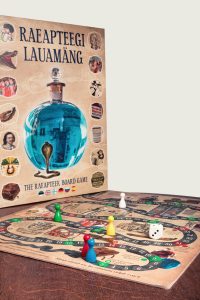 The Raeapteek board game
A race-based board game for all ages inspired by the Raeapteek apothecary shop´s 600 years of wisdom. The most important characters from the establishment´s history appear before you. Players place their token on the first sqaure and the rest is determined by the roll of the dice.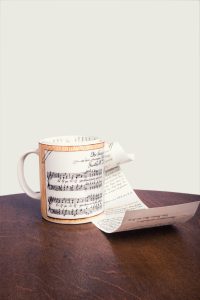 Pottery cup illustrated with notes
Cup from the famous Mon faible collection of the Town Hall pharmacist Burchardt VIII, that started the Estonian History Museum.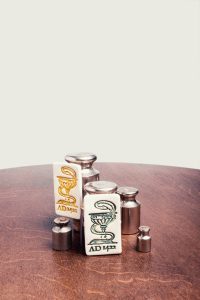 Raeapteek magnet
These souvenirs are made by people with special needs.